If you have a resource for those impacted by the tornado or would like to include more information on the services you offer or update your organization's posting on this page, don't hesitate to submit your request here. Original list compiled by TDEM. Thank You!!
SBA Disaster Loans for January Tornadoes Are Now Available
from Ready Harris – March 17, 2023
Harris County residents impacted by the January 24, 2023, severe weather and tornadoes are eligible to apply for U.S. Small Business Administration (SBA) Disaster Loans.
The SBA offers disaster assistance in the form of low-interest loans to businesses, nonprofit organizations, homeowners, and renters located in regions affected by declared disasters. SBA also provides eligible small businesses and nonprofit organizations with working capital to help overcome the economic injury of a declared disaster.
Applicants may apply online, receive additional disaster assistance information, and download applications at https://disasterloanassistance.sba.gov/. Applicants may also call SBA's Customer Service Center at (800) 659-2955 or email [email protected] for more information on SBA disaster assistance. For people who are deaf, hard of hearing, or have a speech disability, please dial 7-1-1 to access telecommunications relay services.

The deadline to apply for loans to repair property damage is Tuesday, May 16, 2023.
Los préstamos por desastre de la SBA para los tornados de enero ya están disponibles
Los residentes del condado Harris afectados por el tiempo severo y los tornados del 24 de enero de 2023 son elegibles para solicitar préstamos por desastre de la Administración de Pequeñas Empresas (SBA por sus siglas en inglés) de EE. UU.
La SBA ofrece asistencia por desastre en forma de préstamos a bajo interés a empresas, organizaciones sin fines de lucro, propietarios de viviendas e inquilinos ubicados en regiones afectadas por desastres declarados. La SBA también proporciona a las pequeñas empresas y organizaciones sin fines de lucro elegibles capital de trabajo para ayudar a superar el daño económico de un desastre declarado.
Los solicitantes pueden presentar su solicitud en línea, recibir información adicional sobre asistencia por desastre y descargar solicitudes en https://disasterloanassistance.sba.gov/. Los solicitantes también pueden llamar al Centro de Servicio al Cliente de la SBA al (800) 659-2955 o enviar un correo electrónico a [email protected] para obtener más información sobre la asistencia por desastre de la SBA. Las personas sordas, con dificultades auditivas o del habla deben marcar el 7-1-1 para acceder a los servicios de retransmisión de telecomunicaciones.
La fecha límite para solicitar préstamos para reparar daños a la propiedad es el martes 16 de mayo del 2023.
---
---
2-1-1
Residents can contact 2-1-1 Texas, the state's free 24-hour helpline. No matter where you live in Texas, you can dial 2-1-1 or 877-541-7905 or visit https://www.211texas.org for community resources, including housing and utility assistance.

Los residentes pueden comunicarse con 2-1-1 Texas, la línea de ayuda gratuita del estado disponible las 24 horas. No importa dónde viva en Texas, puede marcar el 2-1-1 o el 877-541-7905 o visitar https://www.211texas.org para obtener recursos de la comunidad, incluida la asistencia con la vivienda y los servicios públicos.
---
Texas Department of Emergency Management
For emergency preparedness and response information, visit https://tdem.texas.gov
---
Small Business Administration
---
City of Pasadena
(713) 447-1511
Websites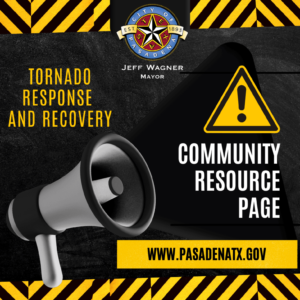 https://www.pasadenatx.gov/911/Tornado-Recovery-Resources
Facebook
https://www.facebook.com/pasadenatxgov/
Chamber of Commerce

---
American Red Cross
If you need shelter or emergency food or water, contact them at 800-733-2767. https://www.redcross.org/local/texas/gulf-coast.html
---
National Center for Disaster Fraud
Concern with someone claiming to represent FEMA: National Center for Disaster Fraud at (866) 720-5721 or [email protected]
---
Texas Department of Insurance
Texas Department of Insurance – for contact information for your insurance company or help with questions about how to file a claim. Call our Help Line from 8:00 a.m. to 5 p.m. Central time, Monday thru Friday: 800-252-3439.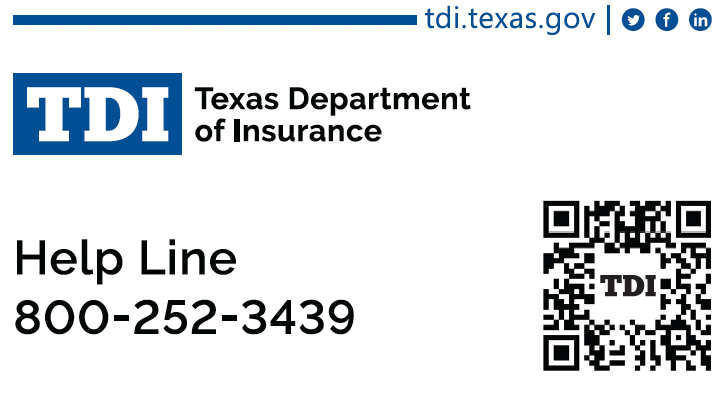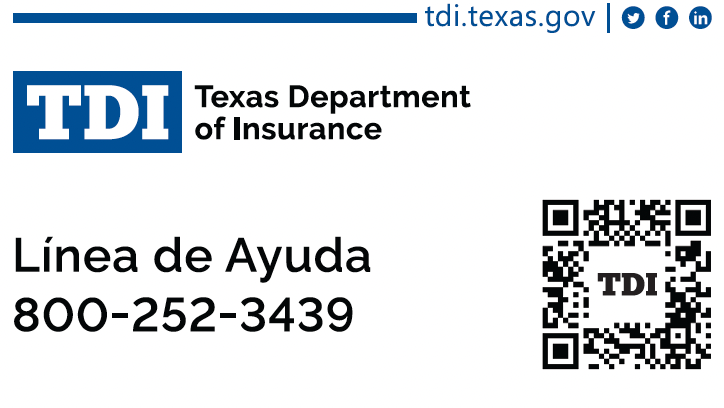 ---
Center Point Energy Electric
713-207-2222
---
Center Point Gas
713-659-2111
---
Baker Ripley
713-667-9400
(sheltering and community support)
Salvation Army
713-378-0020
(sheltering and community support)
---
Pasadena Health Center
713-766-0474
---
The Bridge Over Troubled Water
713-473-0753
(domestic violence support)
---
Clothed by Faith
713-412-9244
(provide clothing to survivors)
Southeast Area Ministries
713-417-5626
(emergency assistance)
---
Catholic Charities
713-526-4611 (emergency assistance)
---
United Way Houston
713-685-2300
---
Disability Rights Texas
Visit https://disabilityrightstx.org/en/category/disaster-preparedness-andrecovery/. Texas residents experiencing disability discrimination or having problems getting disability services can apply for our legal services. You can call the statewide intake phone line number at 1-800-252-9108 to get started with intake. The phone line is open Monday through Friday, from 9 AM to 4 PM Central Time.
---
Lone Star Legal Aid
For legal help after a disaster, call 1-800-733-8394 or apply online at www.lonestarlegal.org
---