Current Activation Level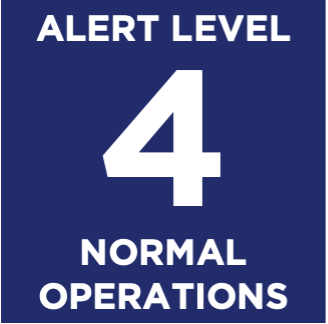 Friday, December 1, 2023 – TGCRVOAD is lowering its Alert Level to 4 – NORMAL OPERATIONS. We have not received any Requests for Assistance (RFAs)due to the severe weather on the 30th.
Activation Levels

TXGCRVOAD uses Activation Levels to communicate a shared understanding of our activities. Level 4 denotes Normal Operations, and levels 3 through 1 indicate that TGCRVOAD is in some disaster response/short-term phase. Note that the TGCRVOAD may be operating on several levels at a time. For example, we could be Level 3 – monitoring a potential threat in the Gulf of Mexico that may be a week away; Level 2 – standing by to respond to a threat to Matagorda County that is imminent; Level 1 – responding to a wildfire in Montgomery County, and transitioning responsibility to the local LTRC for a tornado a month ago in Fort Bend County.
TGCRVOAD Activation Levels
Level 4 NORMAL OPERATIONS
Level 3 SITUATIONAL AWARENESS
TGCRVOAD: Monitors the threat and identifies the need to escalate the activation level
VOAD Members and Partners: Monitor the threat
Level 2 STANDBY
TGCRVOAD: Monitors VOAD activity and assists with coordination activities
VOAD Members and Partners: Stage resources and prepare to respond quickly as Requests for Assistance (RFAs) are made
Level 1 ACTIVATED
TGCRVOAD: Conducts Coordination Conference Calls – Situation Reports (SitReps) and Coordination; Coordination with VOADS, Long-Term Recovery Committees (LTRCs), and Offices of Emergency Management (OEMs).
VOAD Members and Partners: Provide periodic Situation Reports (SitReps) and participate in Coordination Conference Calls
LEVEL 1 ACTIVATED – transition to LTRC
TGCRVOAD: Coordinates Activities of VOAD Members and Partners and Long-Term Recovery Committees (LTRCs); Supports LTRCs
VOAD Members and Partners: Ensure clean handoff to LTRCs; Support LTRCs
For more information, see Functions in Disaster